WHO: lightningvampirewolf
WHERE: http://www.furaffinity.net/user/lightningvampirewolf/
WHAT: a pair of fursuit ears
WHEN: August 22nd initial contact and money sent
EXPLAIN: Never received items or any proof they were worked on or shipped.

Initial contact: August 22nd (Highlighted my words in blue, her words in pink.)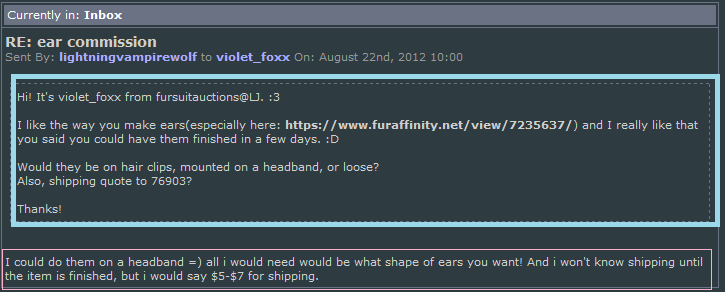 Agreement on how much will be paid: August 22nd




Proof of payment: August 22nd



I asked when they will be completed: August 24th. They said Tuesday which would be August 28th.




August 29th, asking for an update.



September 3rd, asking for another update.



September 13th, after FA came back up, I ask for proof or a refund.




No response for a while, but I get this.




September 30th, still haven't received anything.




September 30th, still no pictures.




October 9th, ask for refund, still no real proof. I got pictures of some foamed ears but they also conveniently had another pair of foamed ears just lying around, so I highly suspect the foamed ears are just the ones "lying around".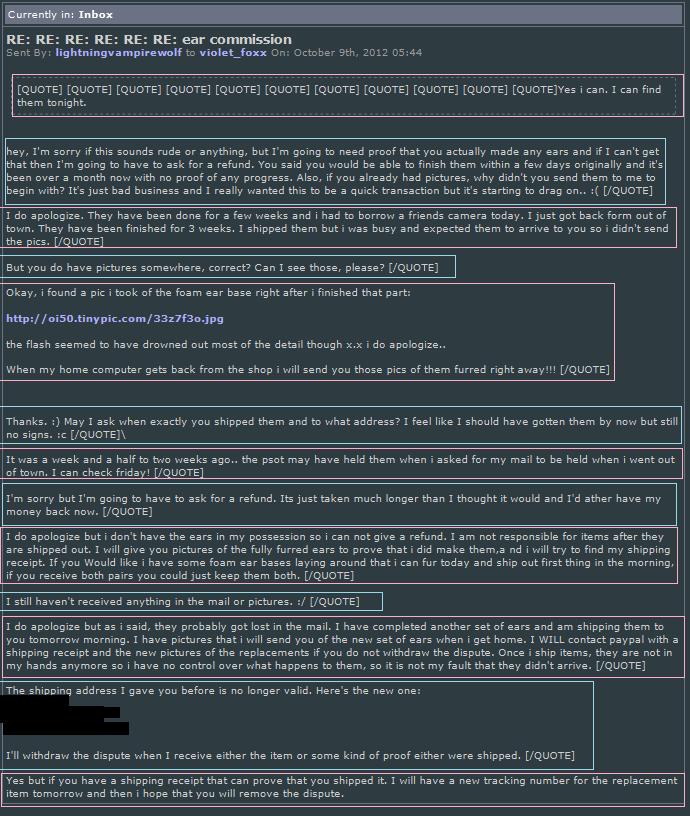 No contact has been made since then, I've never received a tracking number or any pictures, and I've opened a dispute, with no contact back from the seller. I'm going to escalate it to a claim. I wouldn't advise commissioning this person for anything.

Edit: 10/22/12 still haven't received anything in the mail, no tracking number, no pictures, no contact.

Edit: 10/29/12 PayPal resolved the dispute in my favor and I have been refunded the full $38.

Edit: 5/5/14 screenshot of LightningVampireWolf offering art as compensation on 12/6/12, after the refund. I declined, and no art was received.