WHO: jilduck, http://jilduck.livejournal.com/profile, http://www.furaffinity.net/user/bearrier/

WHERE: transaction took place here: http://teenycom.livejournal.com/1037460.html

WHAT: $9 icon

WHEN: September 19th

PROOF: http://teenycom.livejournal.com/1037460.html . I don't know how to take a screengrab of an entire web page, but here are two pics of the comment string. I can also take one of the paypal transaction if necessary.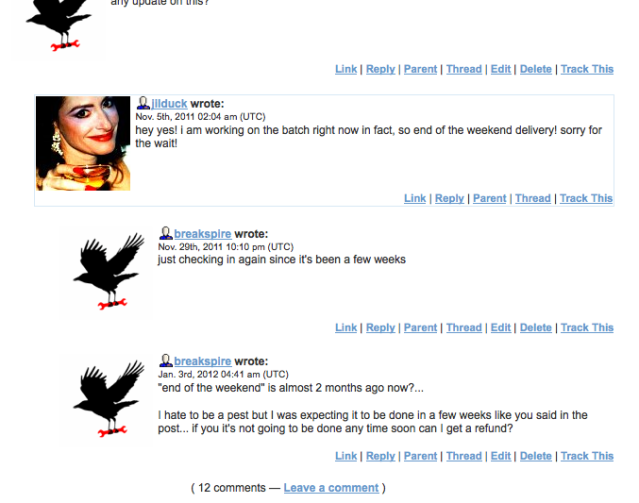 EXPLAIN: the original post where she states the turn-around time will be "within a couple weeks" was on Sept 15th. I paid on the 19th. I checked in with her on November 2nd, which she replied to on November 5th saying it would be done by the end of the weekend (the 5th was a Saturday). I checked in again on November 29th and January 3rd and got no responses to those. All the dates and messages are the pictures above. I found her FA a few weeks ago and sent her a note 17 days ago which is still unopened (but it looks like she hasn't been active there in the past month, so that could be why).

It's not a lot of money, and I know life gets in the way of things sometimes. I just want some confirmation from her that she's actually going to do it, or the money back.

Edit - jilduck resolved things in the comments below, I've got the icon.