I am an artist who attended MetroCon 2011 under the studio name GenkiGoth Studios and was commissioned by an attendee on that saturday (june 18th) to complete an inked image of 2 original characters that go by the name Chi and Val at the tune of $18. I was booked with commissions for the weekend and told the guest that it would most likely be done after the convention, at which I would mail it to her before her proposed deadline. It wasn't until after the convention that I realized neither of us thought to ask for the guests' mailing address. I had waited the week out, to see if she would email me at any point in time but nothing has come about. As of recently I posted about this situation on Facebook, Deviantart and Twitter hoping for some kind of a response soon. This is more of a pre emptive move on my part, seeing as how the deadline to get this to her is the 29 of this month, but I am not local to Tampa and I am prepared to overnight this to her (I had every intention to actually) but I do not have any way to contact her and the only thing I have is just the names of the characters she'd asked me to draw and one reference of the characters that was drawn from another artist at the convention.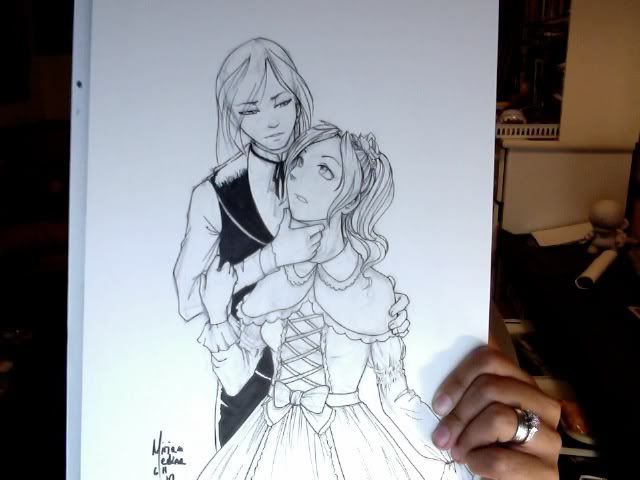 Above is the requested piece. It is of Chi (front) and Val (back) It is done and ready to be sent out. If you are the owner of this piece, or if anyone out here knows the guest who commissioned this, please tell her to contact us. Our email address is genkigothstudios@yahoo.com. Thank you all for reading and I hope this can be settled soon.

UPDATE: the owner has been found and the commission has been sent. She was very happy with it and I'm glad it finally made its way home. And a big thank you to everyone for your suggestions and ideas; I have put them to good use so this does not happen again.