I think this person is a con artist.
See this?
http://browse.deviantart.com/?qh=&section=&global=1&q=zelda+necklace#/d3grtmx
I actually
OWN
this, and no I didn't buy it from her or her "team" (they can make beautifully precise necklace designs but MSpaint like shop signs?
http://acessoriosanime.deviantart.com/art/ID-Acessorios-Anime-204970441
)
My brother brought it back for me from America about... 2 years ago from Hot Topic.
I even have pictures from 2009 of me WEARING the damn thing:
http://img.photobucket.com/albums/v386/NekoPhoenix/menecklace.jpg
http://img.photobucket.com/albums/v386/NekoPhoenix/menecklace2.jpg
Sorry for the smallness, had to take them from me facebook account.
So, there's that one that she's trying to pass off as her own creation. I'm not the first to catch her out I think as she has quite a lot of hidden comments.
This is also pretty suspect:
http://www.etsy.com/listing/74401260/zelda-shield-necklace-blue?ref=pr_shop
Original?:
http://capitalcomics.net/images/varios11.jpg
http://www.videogamemm.com/d/15828-3/Legend+of+Zelda+Shield+Necklace.JPG
What about the others?
Here is their etsy site:
http://www.etsy.com/shop/PriSuicun?ref=seller_info
Where they are selling these for 33 dollars and NINETEEN dollars shipping or THIRTY FOUR dollars shipping outside of Brazil! - She even lists that the necklace isn't heavy, which it isn't, and she's charging 19 dollars to ship it WITHIN brazil.
This is a straight up con artist.
What can be done?
EDIT:
Note from her: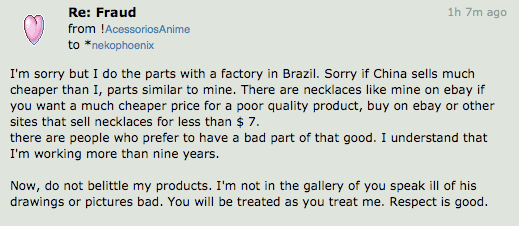 Her reply makes NO sense, and then she promptly deleted her dA account
This is her regular account:
http://suicunosdh.deviantart.com/
EDIT II:
Note from her "lawyer" (which, by the way, I did not reply to the last one to warrant this torrent of badly bullshitted... well, bullshit)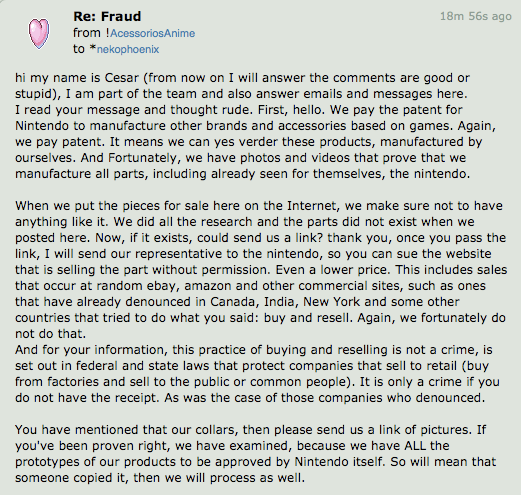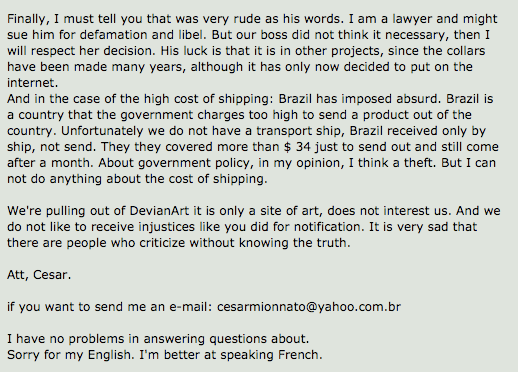 Also posted to Art-Theft
Artist's beware has moved!
Do NOT repost your old bewares. They are being archived.
https://artistsbeware.info/