December 8th, 2018
Hello, my name is Zephra.
My FA can be found over here: http://www.furaffinity.net/user/zephra/
I'm mainly looking to post on AB, as I had accepted a lot of wing-its while at MFF. Once I got home from the convention, I went to sync my data online, but it overwrote my ipad and I lost everything instead. The last few days I've been posting through FA and Twitter to hopefully get attention and have people message me, and I feel so grateful that a lot of people have. As of sending in this AB post, 21/23 wing-its have been contacted and given info.
However, I am still missing information for two wing-its, and that is still a reason to now post this beware not as a beware in general, but in hopes of getting information out and getting in contact with two people who bought a commission from me, but I have no clue who they are.
As of right now, one slot was bought on Friday at the end of the con selling hours, one was bought on Saturday towards the middle of the day. They were paid with card, and I can confirm either with real name, or last four digits of the card that it was paid with. (Though, I do understand it's awkward asking for that last info, so I prefer to check by name if possible).
(
Read more...
Collapse
)
Artist's beware has moved!
Do NOT repost your old bewares. They are being archived.
https://artistsbeware.info/
WHO: Chibijenhen_art

WHERE: https://twitter.com/ChibiJenHen_Art

WHAT: Commission (never received)

WHEN: 9/16/2017

EXPLAIN: Chibijenhen opened commissions claiming that she had a problem with her bank that needed extra money to fix, since she's a professional artist now, I assumed it was legit. I bought a commission after asking if the character would be doable, she said it was fine. Over the next year or so I asked for updates multiple times, she assured me she would get to it, but never offered anything as an update, over that period of time she had drawn hundreds of pieces of personal art, and had also opened up commissions again several times, always claiming it was from a bank problem. Now if it was something huge like a poster or animation that I paid for I could understand the wait, but I can't believe she would be so busy she can't do a sketch over a period of a year and 2 months. I had asked some people familiar with her work about it in private, and had been told this is something she does very often, only prioritizing things involving her characters and putting off everything else indefinitely.
She doesn't seem like an inherently bad person to me, but going off of this her work ethic is horrendous, I would advise against commissioning anything from her unless you want to wait a very long time.

PROOF: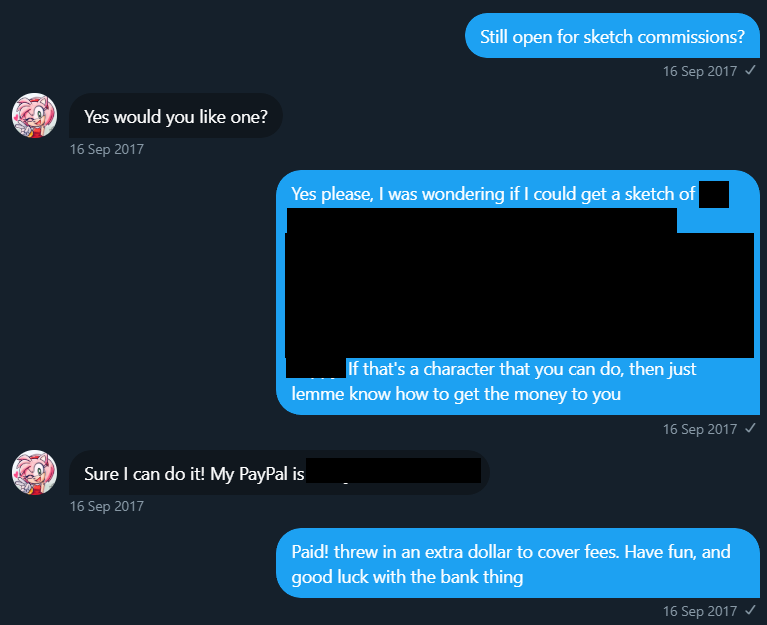 (
Read more...
Collapse
)
Artist's beware has moved!
Do NOT repost your old bewares. They are being archived.
https://artistsbeware.info/